[ARCHIVED] Dreasy For Hangovers
$49.95 $69.95
Extremely effective In preventing hangovers
Dreasy is specially formulated with essential vitamins minerals (N-Acetyl Cysteine (NAC), 
Alpha-Lipoic Acid (ALA), Vitamin C, Vitamin B6, B12, Magnesium Glycinate) to replace nutrients & break down toxin chemical compounds that are produced in your body thanks to alcohol, helping to prevent a hangover in the morning.

Supports Healthy Liver Functions
N-Acetyl Cysteine (NAC), a key component in Dreasy, is such a powerful antioxidant it is used in treating Acute Liver Failure in hospitals and successfully reduce Death rates. It is anti-inflammatory, antioxidant, inotropic.
Studies have concluded NAC causes reduction in Non-acetaminophen-induced Acute Liver Failure mortality and its use was safe

Ingredients Used Are Classified As FDA Safe
Made with 100% FDA-Approved Ingredients in a GMP-certified lab, Dreasy is a 100% safe, and effective, hangover prevention remedy in a capsule!

No Caffeine, No Pain Relievers
With Dreasy, you no longer need traditional hangover remedies like Caffeine or OTC painkillers to get through your hangover. Just pop 2 capsules before drinking and you're good to go!

Breaks Down Highly Toxic Alcohol By-Products In Liver
Acetaldehyde is not just a toxic by-product that damages your liver, but it also increases the risk of cancer! Keep your liver healthy with Acetaldehyde-busting ingredients such as NAC and antioxidants that are specially formulated for Dreasy!

Provides Potent Antioxidant To Minimize Free-Radical Damage
Dreasy contains Alpha-Lipoic Acid (ALA), a potent antioxidant that helps to regulate blood sugar so that you won't crash the morning after! It also helps to restore Vitamin C and Vitamin E levels in the body, giving you more power to fight free radical exposure.

Incredible Convenience & Portability
Dreasy is packaged for ultimate convenience and portability - after all, it was designed to fit into any pocket or wallet. Now you have no excuse to not take with Dreasy with you to any party!

Active Ingredients



Suggested Use
For best results, take 1 sachet (2 capsules) 60 minutes before your first alcoholic drink.

Warning
This product is not intended for women that are pregnant or nursing a baby. The product is not intended for person under the age of 21. Anyone with a medical condition or taking medication should consult with a physician before use.

*Disclaimer: These statements have not been evaluated by the Food and Drug Administration. This product is not intended to diagnose, treat, cure, or prevent any disease. Consult health professionals if any specific questions. Individual result may vary.
Customer Reviews
Write a Review
Ask a Question
I tried this supplement on my birthday. I didn't think anything is going to miraculously prevent a hangover, but this definitely helped. When I woke up the next morning, despite drinking too much the night before, my hangover was milder than usual. The hangover was still there but it disappeared quicker than usual. I will definitely be trying these again!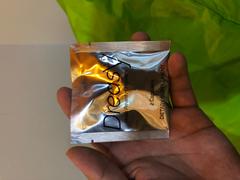 01/10/2020
Hugo G.
United States
Works!
I've tried different products including the Princeton "researched" famous ones and this is the only one that worked for me.
01/07/2020
Eva T.
Sweden
Great I'll revoltens it to
Great I'll revoltens it to all my friends
11/23/2019
leigh r.
United Kingdom
Not received
I havent received it yet!!
11/10/2019
Megan S.
Australia
It works....
Easy to take and it seems to work. Had a big birthday lunch with friends and woke the next morning without taking anything pre bed. Felt fine, no headache, just normal.