If This Doesn't End Your Rough Mornings, We Don't Know What Will...
Packed with essential vitamins and minerals, Dreasy is here to protect your body from alcohol toxins...
It's the ultimate prevention solution to a fresh, energized morning with zero hangover symptoms.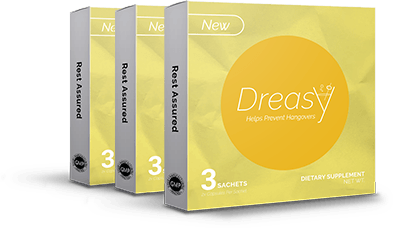 What you'll get from taking Dreasy:
+ N-A-C to help reduce alcohol toxicity
+ Protect the liver from free radical exposure
+ Replenish Vitamin B's and C
+ Break down Acetaldehyde that causes hangovers
+ Wake up feeling fresh and energized
See What Our Customers Have To Say
These two capsules are the game changer!
Putting up a last minute hangover cure with multiple hangover symptoms can be a pain. Why not try preventing a hangover from the start?